With the bi-centenary of his birth falling on 28 February 2008, harpists the world over celebrate the dawn of a New Year – The Year of Parish Alvars
'Eli, son of Joseph and Mary Ann Parish, born 28 February, baptised 13 March'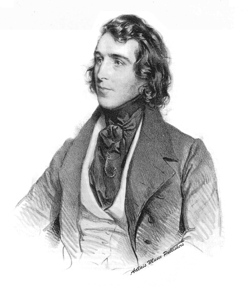 So run the Bishop's Transcripts of the parish records of the church of St James, West Teignmouth, for the year 1808. Eli was the second of the ten children to be born to Joseph and Mary Ann Parish. Long-established in Teignmouth, the Parish family was quite numerous, and this particular branch can be traced back as far as Robert Perrish (c.1749-1840). It will be noted that in the late eighteenth century the surname was spelt Perrish, which probably reflects local pronunciation, but it is also possible that, way back, a sixteenth-century ancestor was one Diego Perris (Perez) who arrived in Plymouth in the 1590s.
By the time Eli was born the family were well and truly pillars of the Anglican faith. Joseph Parish, a music-seller, was the organist at St James's Church, but it is easy to understand why the confusion has arisen as to whether or not Eli Parish was Jewish, when not only is he himself called Eli and his father and mother are called respectively Joseph and Mary Ann, but several of his brothers have biblical names, two of his brothers revelling in the names of Joseph Zadock Esdras and Joseph Ephraim Samson Shongar.
Despite its importance as a port, the Teignmouth of the early nineteenth century was also a fashionable and flourishing watering-place, second in importance only to Bath. There were at least eighteen bathing machines on the beach, and invalids came from all parts to drink the sea-water. The Den, where young blades strutted and played the flageolets they had bought at Mr Parish's shop in Wellington Street to impress their young ladies, was a sand-dune covered with wild thyme, and a gravel carriageway ran around it. Fanny Burney had visited Teignmouth, Keats had written the prologue to Endymion there, and the famous painter Thomas Luny lived at the house which is now an hotel and which bears his name. There were three theatres, two hotels and a Library. West Cliff House (now re-named Bitton House, and housing the Council Offices) had been built for Admiral Viscount Exmouth, whose real-life exploits were sufficiently dramatic for him to feature as Midshipman Hornblower's captain in C S Forester's famous novel, and in the subsequent television series with Ioan Gruffudd as Horatio Hornblower. For a young musician, it was an exciting place in which to grow up.
He gave his first documented public performance at Totnes at the age of ten, but Eli Parish was already fifteen years old when the Royal Academy of Music – of which the wily Robert Nicolas Charles Bochsa was self-appointed Secretary – opened its doors to its first students. He went to London and in November 1822 he passed the preliminary audition, unaccountably failing to get accepted at the final one the following March. Did Bochsa, who auditioned him, perhaps refuse him because he sensed a future rival?
Fortunately, there were other teachers in London, and Eli studied with François Dizi (1780-c.1840) and *Théodore Labarre (1805-1879). He left London for Florence in 1828, remaining there for some eighteen months, before returning to London where he worked for the harpmakers Schwieso and Grosjean in Soho Square, most probably as a demonstrator. [A contemporary at Schwieso and Grosjean was harpist-composer Oliver Davies (1804–1882)].
In June 1830 he left London for his first continental tour. This took him to Bremen, Hamburg, Magdeburg and Brandenburg and he returned to Germany the following year after visits to Copenhagen and Stockholm. During the summer of 1831 he visited St Petersburg and Moscow, which must have been where he met Count Boutinoff, Russian Ambassador to the Ottoman Empire, who invited him to Constantinople the following year. Travelling via Kiev, Odessa and the Black Sea he reached the capital of the Ottoman Empire, where he played for Sultan Mahūd 2, a patron and champion of European classical music, whose Director of Music was Pasha Giuseppe Donizetti, elder brother of the opera composer *Gaetano Donizetti.
It was about this time that Eli eventually adopted the more dignified form of his Christian name and the extra patronymic, Alvars, though his first published compositions were issued as being by Albert Alvars. Marche Favorite du Sultan (op.30) was one of the very first pieces to be published under the name Elias Parish Alvars. This was in Vienna, which thenceforth became his main base. The publishing house was Artaria, who from that time onwards became his principal publishers. His principal patroness was Countess Jeanette Esterházy to whom he dedicated an extensive list of works, and who, in later years, was to become an important patroness of *John Thomas (1826-1913).
Parish Alvars had the great advantage of having had access to double-action pedal harps from an early stage. As a demonstrator for Schwieso and Grosjean he had probably played one of their harps until 1839, when he acquired his first new Erard Gothic harp. He experimented incessantly with techniques which were only possible on the new harps.
He must have had complete faith in the mechanical reliability of his instrument. Fearless modulation and chromaticism on the scale at which he used them meant total and absolute control of the pedals. His constant experimentation produced hitherto unknown and unexplored effects, some of which are remarkable even today, more than 150 years after his death. He was the first harpist to use chordal glissandi, the first to exploit enharmonic effects to an advanced degree, and the first to use double and triple harmonics combined with glissandi. Some of the effects with which he experimented, such as his sdrucciolando harmonics for the left hand (a series of harmonics produced as a glissando), and his re-tuning of certain strings to produce triple synonyms, are still not in general use. Other effects, such as the chromatic glissando effected by the use of the tuning-key have hardly ever been used since his time.
Berlioz called him 'a magician' on one occasion; on another he called him 'The Liszt of the harp'. In the Treatise on Orchestration he talks of 'Mr Parish Alvars, the most extraordinary player, perhaps, who has ever been heard on this instrument'. The world of the harp has never produced such an outstanding figure, and that he should have been so neglected over the years is both surprising and saddening. It is to be hoped that the Festival organised in Teignmouth on the occasion of the bicentenary of his birth (February 24-28 2008) may go some way towards making amends for this long period of neglect. It is in many ways ironic, if not poignant, that in writing to The Musical World and dated Naples, Nov. 26th, 1844 that this is what Parish Alvars had to say:
'I am getting heartily tired of the continent and think seriously of returning and fixing myself in my native country – as so many foreigners find their account in England, I trust the English will not refuse a few crumbs to one of their own'.
On January 1st 1848 in an article entitled 'A Dream of Music at Vienna' the Musical World's correspondent wrote thus:
'… Parish Alvars, who, after a residence of several years at Vienna, and travelling over half of Europe, determined a few months back on returning to London for a permanent residence. He gave a farewell concert which was crowded by the Viennese, and all the performers gave their gratuitous services in the orchestra; a symphony by our countryman was played on this occasion, which evinced considerable power of orchestral writing, and was much applauded. After his last harp solo, Alvars was thrice called forth to receive the last adieu of his many friends. On his return to London, he sold his manuscripts freely, and with the proceeds of his many lessons and compositions, it is said that the short musical season of his native country yielded him an amount equal to two years income in Vienna! Imbued with a strong admiration for the more agreeable and enjoyable life of a less mechanical existence, and finding London too solitary amidst the feuds and jealousies of its unsocial professors, he speedily retraced his steps to Vienna, and is now found in his haunts enjoying the brotherhood of many clever musicians'.
Just over a year later (25 January 1849), Elias Parish Alvars – not yet forty years old and the greatest harpist-composer England has ever produced – was dead! The cause of his death was given as 'palsy', which may mean a paralysis brought about as a result of a back injury sustained when he fell climbing Vesuvius some years earlier; there is no doubt, either, that the rigours of his life as a travelling virtuoso were a contributory factor in his early demise. He left a wife, the former Melanie Lewy, and two small children, Aloysia and Arthur.
It is to be hoped that the bi-centenary of his birth will go some way to reviving interest in his music and in resurrecting its legacy, so that it may live again and become a lasting monument to the virtuosity, the supreme artistry and the genius of Elias Parish Alvars - Son of Teignmouth, King of Harpists.
© Ann Griffiths 1991, revised 2008

View all Parish Alvars works published by Adlais
Please see our Music Section for associated scores and use links below for further articles.
Théodore Labarre (coming soon)
Gaetano Donizetti (coming soon)