Robert Nicolas Charles Bochsa
(1789-1856)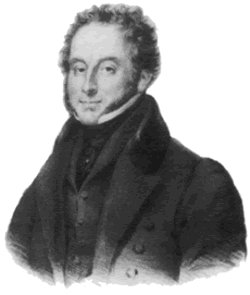 The son of a regimental bandmaster of Bohemian origin and his French wife, Robert Nicolas Charles Bochsa was born in the garrison town of Montmédy in Northern France. There is no doubt that his first impressionable years - spent surrounded by the sound of martial music and by the pomp, circumstance and colourful military pageantry of the parade ground - left their indelible mark on his later life.
With his family, he moved first to Lyon, thence to Bordeaux and finally to Paris, where his father became a music-seller and publisher, and where Bochsa studied the harp with F J Naderman and Marcel, Vicomte de Marin. Handsome, charming, and prodigiously gifted, he was soon attracting the admiration of Parisian Society, and by the age of twenty-three he had made a brilliant marriage to Georgette Ducrest, a niece of the redoutable Félicité, Madame de Genlis.
By the month of March, 1817, however, he was a fugitive from French justice, having forged signatures and legal documents to such an incredible extent that, the following year, tried in absentia, he was fined 4,000 francs and condemned to twelve years of hard labour and to be branded with the letters T.F. (Travaux Forcés).
Calling himself 'Le Chevalier Bochsa', and thus implying an aristocratic background, Bochsa then escaped to London, where he lived life to the full, settling in Mayfair and mixing with the aristocracy as an equal. Within a very short time he was playing at the most prestigious London salons, including that of Apsley House, home of the Duke of Wellington, whose signature he had forged in Paris only a year earlier. For a while he led a charmed life, working as a performer, composer and fashionable teacher, eventually becoming the harp professor and the first Secretary of the newly-established Royal Academy of Music. However, a bigamous marriage to a Miss Amy Dubochet led inevitably to his suspension from this post, at which point (1826-1829) he became Director of Music at the King's Theatre.
During the 1830s he compiled and published his 'New Effects' for the harp, performed, composed, arranged, and acted as a promoter of concerts. One of his regular artistes was Anna, the gifted wife of the famous composer Sir Henry Bishop, who, in 1839, she deserted in favour of Bochsa.
Thus began a ceaseless odyssey which ended only with Bochsa's death seventeen years later. Together, starting in Hamburg, they performed in Copenhagen, Orebro, Stockholm, Uppsala, St Petersburg, Odessa, Moldavia, Cracow, Brno and Vienna, before going on to Hungary, Munich, Vienna and Naples, where they stayed for two years. Then it was back to England, on to Ireland and Scotland, and in 1847 to New York and the USA. Thence to Cuba, Mexico and back to New York and to London for the Great Exhibition of 1851, before returning to the USA again. 1 October 1855 saw them set sail from San Francisco for Sydney, Australia, and it was there that Bochsa died on Sunday, 6 January 1856.
©Ann Griffiths 2002