Oliver Davies
(1804-1882)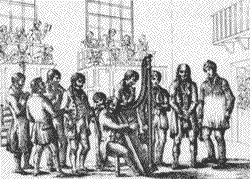 Oliver Davies was born in Marylebone, London, in early December, 1804, the son of another Oliver Davies, a professor of music, and his wife, Mary Hoare. Originally from the Welshpool area, the elder Oliver Davies kept in touch with his Montgomery roots, as well as maintaining contact with other Welsh musicians living in the English capital, and so it was not surprising that his first-born should take up the harp – then as now, considered the national instrument of his homeland.
However, it was not the typically Welsh triple harp which Oliver Davies took up, but the fashionable pedal harp, as developed by Sébastien Erard, the French harpmaker established in Great Marlborough Street, London, since 1794. Another Frenchman, the charismatic Robert Nicolas Charles Bochsa* had arrived in London in 1817, and although he had arrived as a fugitive from French justice, in no time at all, he was the most popular teacher in all London, numbering the teenaged Oliver Davies among his many pupils. Bochsa became the first secretary of the Royal Academy of Music, and Oliver Davies's name appears on the list of applicants for entry to the new institution in 1822, along with that of his near-contemporary, Elias Parish Alvars. Neither was accepted for entry, Oliver Davies, who was almost 17, most probably being 'declined' on account of his age. Both he and Parish Alvars then appear to have worked for the harpmaker Frédéric Grosjean in Soho Square, possibly as demonstrators. Parish Alvars later dedicated one of his compositions to Grosjean, as did Oliver Davies, several of whose compositions were published from this address at 11 Soho Square.
Once launched as a soloist, Oliver Davies achieved much early success. In 1822, he was promoting a harp made by Grosjean which was meant to incorporate the best points of both triple and pedal harps. Thus, it had two rows of strings, so as to obtain that the typical doubled note effect particular to the triple harp, and seven pedals so as to facilitate key changes. Oliver Davies is known to have demonstrated this instrument, known as 'the Cambrian Pedal Harp' in both Brecon and London in 1822. By 1824, however, he seems to have reverted to the single-action pedal harp, for which he wrote the present piece. Contemporary press reports testify to the success of his performances at the Welshpool Musical Festival (22-24 September, 1824), when he gave the first performance of 'Good Humoured and Merry', which he 'Respectfully Inscribed to the President, Vice President and Members of the Cymmrodorion in Powys'.
Some 35 more of Oliver Davies's harp compositions were published, mostly by Grosjean, to whom several of the later compositions are dedicated; another is dedicated to Aptommas (1829-1913), a brother of John Thomas (1826-1913), who was harpist to Queen Victoria. It seems likely that Oliver Davies would have played a pedal harp made by Grosjean in the early part of his career, though he later acquired an Erard Gothic harp (no. 5868). He eventually settled as a music teacher in Camden Town, London, at 21 Healey Street, where he died, aged 77 on 14 February, 1882.
The melody 'Glan Medd'dod Mwyn' (Good Humoured and Merry) was first published by John Parry (Parri Ddall, 1710-1782) in 1761, and again in 1781. It appears to be a genuine Welsh tune, though attention has been drawn to similarities with other tunes popular at eighteenth-century London pleasure gardens, such as Vauxhall. The tune was published again in 1814, this time by another John Parry (Bardd Alaw) who gave it the new English words 'Oh, let the kind minstrel attune his soft lay', thus gentrifying this 'Cambrian Bacchanalian Air', and transforming a drinking song (previously rendered in English as 'Good humoured, Fairly tipsey') into a song at one time suggested for consideration to be adopted as a Welsh National Anthem. Since the publication of Brinley Richards's Songs of Wales in 1873, it is Ceiriog's words, 'I wisgo aur goron' which have become most commonly associated with the tune.
©ANN GRIFFITHS March 2004
The author would like to express her thanks to Oliver Davies, FRAM, FRCM, for his generous help in establishing biographical details for his namesake. *For further information on Bochsa, see the article included in Adlais's edition of his Morceau d'Expression.