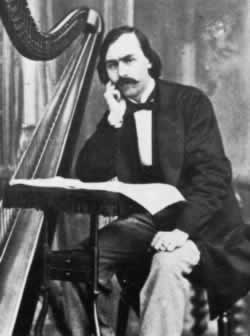 'Voila comment jouer la harpe' wrote Hector Berlioz on 2 March 1854. John Thomas, the subject of his comment, was born in Bridgend, South Wales, on St David's Day, 1 March 1826. He was the eldest of seven children, four of whom became harpists. His father, also named John Thomas, was a tailor by trade, but he was a good amateur musician who played clarinet in the town band. Little John is said to have been playing piccolo in the band at the age of six, but it was the harp that he was determined to play, and an old one was obtained for him. This was a Welsh triple harp and John Thomas was playing it in traditional style (with his left hand playing the treble and his right hand playing the bass) when he won a new Bassett Jones triple harp at the Eisteddfod organised by Lady Llanover at Abergavenny in October 1838.
He was only twelve years old, and created a sensation. Invited to London by Sir Charles Morgan, the Eisteddfod president, he made such an impression on Ada, Lady Lovelace, Byron's daughter, that she offered to pay for three-quarters of his education at the Royal Academy of Music if his father could find the other quarter.
John Thomas went to London. He learned to speak English and he re-learned his harp technique, abandoning the triple harp for one of Erard's grand new pedal harps, and changing from the traditional Welsh method he had been taught, transferring the harp to his right shoulder, so that now his right hand played the treble and his left hand played the bass. His harp teacher was John Balsir Chatterton whom he eventually followed, both as Professor at the Royal Academy of Music and as Harpist to the Queen.
John Thomas became harpist to the Royal Italian Opera in 1850. The season ran from March to mid-July, so the appointment gave him the liberty to tour the continent as a soloist in the winter months. This he did from 1851, and over the next few years he visited France, Germany, Italy, Russia and Austria. In Vienna he was greeted as the natural successor to Parish Alvars, who had died there in 1849, and John Thomas dedicated his famous solo 'Autumn' to Countess Esterhazy, Parish Alvars's main benefactress. 1852 was an important year, with a commission to compose and perform a Philharmonic Society concerto on 3 May; the manuscript of his 'Minstrel's Adieu' dates from 30 July that year. Working at the Italian Opera also gave him a lifelong love of the human voice – in fact, in 1860, he was engaged for a year to the well-known soprano Desirée Artôt, who, in 1868, received (and refused) a proposal of marriage from Tchaikovsky!
At the Aberdare Eisteddfod of 1861, John Thomas was invested with the title of 'Pencerdd Gwalia' (Chief Musician of Wales), and in the same year he published his famous Welsh Melodies arranged for the harp. A year later he published his Welsh Melodies for the Voice to resounding success, and on 4 July 1862 he began his series of Grand Concerts of Welsh Music at St James's Hall, Piccadilly, with a choir of 400 accompanied by a band of twenty harps! These annual concerts continued for 42 years.
John Thomas composed, arranged and published a vast amount of music, especially music for the harp. Harpists owe him a great debt for rescuing the works of Parish Alvars from oblivion and re-publishing them. Favourite works in his repertoire were Parish Alvars's Serenade, Mandoline and Danse des Fées, and he was also the first in modern times to edit and publish both Handel's Harp Concerto and Mozart's Concerto for Flute and Harp. He became Harpist to the Queen in 1871, and at the time of her Golden Jubilee in 1887, he composed a work entitled 'Cambria's Homage to our Empress Queen' for Male Voice Choir and thirteen harps! He gave his last public concert the following year, in June 1888, when his programme included a remarkable performance of 'Sounds of Ossian' Parish Alvars's great posthumous work, then, as now, still in manuscript. Adlais will publish this work in the near future.
Continuing to compose, edit and publish, John Thomas lived on into the twentieth century, and after the death of Queen Victoria, he became Harpist to King Edward VII. His death occurred in London on 19 March 1913.

© Ann Griffiths 2005