Fantaisie sur des Motifs de Norma for Harp and Orchestra
Parish Alvars's famous Introduction and Variations sur des motifs de l'Opera Norma de Bellini op. 36 for solo harp was published by Artaria in Vienna in 1836. Set in Roman-occupied Gaul, Bellini's Tragedia Lyrica was first performed at the Teatro alla Scala, Milan on 26 December 1831. Despite an unsuccessful premier, Norma quickly became popular, being staged at Naples, Bergamo and Venice in 1832, in Rome in 1834 and in Vienna (sung in German) in May 1833. Fantasias and Variations on themes from the opera swept the salons of Europe, the most famous theme, Casta Diva, from the first act, being by far the most popular subject.
The themes used by Parish Alvars all come from the second act of the opera, and all three are from duets. The main theme comes from the dramatic duet between Norma and Pollione in Act 2, scene 10. In In mia man' alfin tu sei Norma offers Pollione his life if he will swear to abandon all thoughts of Adalgisa with whom he is in love. When he refuses, she threatens to kill not only Pollione but their children as well, and to punish Adalgisa by fire for breaking her druidic vows. Hardly the 'love duet' so often quoted in programme notes on this piece! The other themes used come from duets between Adalgisa and Norma in scene 2, Deh! Con te li prendi; Mira, o Norma; and Si fino all' ore estreme which is used in the opening of the Finale.
Fantaisie sur des motifs de Norma for Harp and Orchestra ad libitum
Whereas the solo version of Introduction and Variations on Bellini's Norma is well known and becoming ever more popular, the version with orchestral accompaniment has never been published and its existence is virtually unknown. Only one score is known to exist. Although unsigned, it is almost certainly in Parish Alvars's hand. It is housed in the Öffentliche Bibliothek der Universitãt Basel, Switzerland. It is scored for full orchestra, consisting of one flute, two oboes, two clarinets, two bassoons, two horns, two trumpets, three trombones, timpani and strings. The harp solo part is almost exactly identical with the published solo versions (the negligible exceptions are noted in Jing-I Jang Elias Parish Alvars' Fantaisie sur des motifs de Norma Part II, WHCR Fall 2010 pp10-11), but enters only after an orchestral introduction of 14 bars. The harp's Introduction, Theme and Variation 1 are followed by an orchestral interlude, and three further orchestral interludes follow Variations II, III and IV, before the Final Allegro.
Thus the original harp solo is transformed into a Concertante for Harp and Orchestra – and the harp soloist is provided with a new Concerto without having to learn any new music. Furthermore, should he or she wish to play the work as a harp solo, all the performer has to do is to omit the orchestral interludes.
Jing-I Jang has prepared and meticulously transcribed the orchestral score from the Basel manuscript, and made a splendid piano reduction, which will be useful not only as rehearsal material, but which will stand on its own as a duo for harp and piano.
The first modern performance of the concertante version for harp and orchestra was premiered by Jing-I Jang at the University of Illinois at Urbana-Champaign on 14 September, 2008. The piano reduction, harp part and score were launched at the Eleventh World Harp Congress, Vancouver, Canada on 27 July 2011.
Ann Griffiths July 2011

Recommended further reading:
Elias Parish Alvars - Life, Music, Documents: Floraleda Sacchi (Odilia Publishing 1999)
Elias Parish Alvars' Fantaisie sur des motifs de Norma: Jing-I Jang (World Harp Congress Review, Spring 2010, Fall 2010)
---
Jing-I Jang www.jingijang.com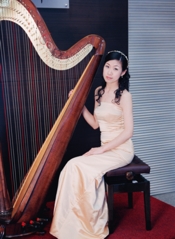 Equally distinguished as musicologist, harpist and pianist, Jing-I Jang was born in Taiwan. Piano was her first study, but whilst at school she also learned the gu-zheng, which she played in a Chinese orchestra before changing to the symphony orchestra and taking up the harp. She studied first with Chi-An Lin and then with Shannon Chieh, and it was with Ms Chieh's encouragement that, after graduating Bachelor of Fine Arts in piano performance from the National Taiwan Normal University in Taipei, she decided to compete in the 5th International Harp Competition in Bloomington, Indiana, in 2001. This changed the course of her life.
Subsequently, under the guidance of Dr Ann Yeung, Jing-I studied at the University of Illinois in Urbana-Champaign, graduating MM in both harp (2004) and piano (2006). She received her DMA in harp performance and literature with a cognate in piano pedagogy in May 2009. The present publication is the fruit of her final DMA project, Preparation of a modern edition of Elias Parish Alvars' Introduction and Variations on Bellini's 'Norma' op 36 for Harp and Orchestra.
In addition to all this, Jing-I has achieved distinction as a harpist, both nationally and internationally, as a prizewinner in the 19th Nippon International Harp Competition held in Soka, Japan and in the 9th International Web Concert Hall Competition in 2007. She was also a winner of the Illinois School of Music Concerto Competition, NTNU Concerto Competition, and the recipient of the Roslyn Rensch Harp Award at Illinois. From 2007-2008 she was adjunct harp instructor and piano accompanist at Wright State University, Dayton, Ohio.