David Watkins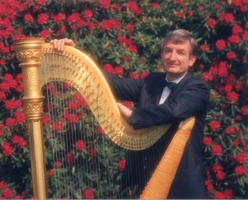 Although born and educated in England, David Watkins is very much aware of his Welsh heritage, and can re-trace his paternal ancestry to mid-eighteenth-century Wales.
A strong consciousness of his cultural heritage led him to live in the heart of Wales for many years, principally in the Llanfyllin area of Powys. From the standpoint of his musical links with Wales, he was the first to edit and publish John Parry's Sonata in D major (Stainer and Bell), and he was the dedicatee of William Mathias's Three Improvisations (op.10)(OUP). In April 2006, at the First International Harp Festival held at Galeri, Caernarfon, he was honoured with a special award given in recognition of his services to the Harp in Wales. As a composer, his 'Petite Suite' (Adlais 216), which includes the brilliant Fire Dance, and many more of his compositions have become an established part of the repertoire of hundreds of harpists world-wide.
It was in July 2005 that Adlais first published a composition by David Watkins. This was his moving Passacaglia In Memoriam Tsunami, performed with great success at the Ninth World Harp Congress held in Dublin the same month. This piece was dedicated to Verity Thirkettle, a young harpist from Pembrokeshire, and it is Pembrokeshire - especially the area around Newport - which has proved to be the inspiration for A Welsh Landscape.
While still at school, he was a member of the National Youth Orchestra and a finalist in a Daily Mirror Competition for young instrumentalists. After studying at the Royal Academy of Music, a French Government Scholarship enabled him to continue his studies in Paris. Returning to London, Solti chose him to play with the Orchestra of the Royal Opera House, Covent Garden. It was a 'Golden Age' which included performances by Callas, Sutherland, Schwarzkopf, Fonteyn and Nureyev. He then became a founder member of the new Welsh National Opera Company under the direction of James Lockhart and, after a short time with the Royal Philharmonic, joined the London Philharmonic under the batons of Boult, Solti, Haitink and Tennstedt.
His solo concerts have taken him all over the world, performing many of the compositions that have been written especially for him. He has also performed as soloist with the London Philharmonic, BBC Philharmonic, Danish Radio Symphony Orchestra, etc. and appeared as soloist with the London Sinfonietta at the London 'Proms' with Sir Simon Rattle conducting.
Since winning first prize in an International American Competition with his composition 'Petite Suite' for Harp, he has written many pieces including the 'Concertino Pastorale', which he played with the London Philharmonic at the Royal Festival Hall, Walter Susskind conducting.
With Princess Grace of Monaco, he devised a recital of poetry and music for the official engagement of Prince Charles and Lady Diana Spencer.
In 2000 he was Principal Harpist at a 'Prom' Concert given by the "World Orchestra for Peace" conducted by Gergiev. This orchestra was composed of principal musicians from the world's great orchestras.
Recent concerts have included a performance of his solo harp concerto and his new concerto for two harps with the Budapest Strings, and a solo recital attended by the widow of Zoltan Kodály.
He regularly gives concerts and master classes in France, Germany and Italy as well as the UK and has recently formed a Duo with the distinguished violinist Michael Bochmann.
His recording of Ravel's Introduction & Allegro with the National Philharmonic became a bestseller in the USA, and other highly acclaimed recordings have been issued by RCA, Meridian and Pyramid.
For many years he was Professor of Harp at the Guildhall School of Music and Drama and has written a 'Method' for the harp published by Boosey and Hawkes.