Andres Izmaylov
View all Andres Izmaylov works published by Adlais
The text below is from the printed score - Adlais 203: Indiana by Andres Izmaylov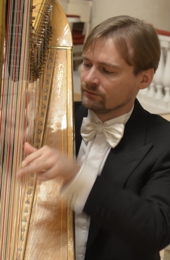 Born in Narva, Estonia, in 1974, Andres Izmaylov comes from the third generation of a dynasty of harpists. His grandmother, Lidia Gordzevich, was an Honoured Artist of Russia. She studied the harp with Zabel pupil, Nicolai Amosov, at the prestigious Leningrad (now St Petersburg) Conservatoire, where, having played in both the Kirov Theatre and the Leningrad Philharmonic Orchestras, she eventually became professor, teaching many subsequently famous Russian harpists.
Andres's mother, Natalia Izmaylova, is principal harp of the National Academic Symphony Orchestra of the Ukraine. An Honoured Artist of the Ukraine, she has recently been awarded the highest possible accolade as People's Artist of the Ukraine. The family harpist tradition continues with his elder son, Artemy, already an international prizewinning harpist, whilst his younger son, Ilia, is a cellist.
From the age of seven, Andres Izmaylov studied at the N. Lysenko specialist music school in Kiev, Ukraine, and from 1991-1996 he was a student at the National Academy of Music in the same city. The 100th anniversary of the establishment of the Ukrainian Harp Class will be celebrated in Kiev on the 21st of April 2013 and it is in honour of this very special celebration that Andres will return to Kiev, where he will give the world premiere of Indiana.
Until 1988, Andres had been taught by his mother, but from the age of fourteen onwards he travelled regularly to Moscow where he participated in Masterclasses with the famous teacher, Milda Agazarian. In 1993, aged only 19, he was appointed co-principal harp of the National Symphony Orchestra of the Ukraine, and in 1995 he was appointed to the prestigious post of co-principal harp of the St Petersburg Philharmonic Orchestra, widely recognised, under its principal conductor, Yury Temirkanov, as one of the world's greatest orchestras. With the orchestra he has travelled all over Europe and as far afield as China, Japan, the USA, Canada and South America.
Andres's work as a harp soloist at an international level is assuming more and more importance, starting with recitals at the European Harp Symposium in Cardiff, Wales, in July 2007, the Parish Alvars Festival in Teignmouth, Devon, England, in February 2008, and in a second European Harp Symposium in Amsterdam, The Netherlands in July 2010. In May 2012, with a programme which consisted almost entirely of his own compositions, he made his South American debut at the World Harp Festival held annually at the exciting city of Rio de Janeiro, whilst in the following August he was invited to Bangkok, where he and his seventeen-year-old son Artemy shared a recital at the 2nd Thailand International Harp Festival. In May 2013 he returns to Rio with a programme of Russian music, which will include the American premiere of Indiana. As a soloist with orchestra, Andres has played all the major harp concertos, and his involvement in the eNsemble project organised by St Petersburg Pro Arte Institute has led to many performances of avant-garde and experimental music. He is also a member of Saint Petersburg's Laterna Magica - an ensemble performing music of the XII-XIV centuries on early instruments.
Andres Izmaylov's reputation as a composer goes from strength to strength. He knows how to write for the harp in the most effective and approachable way, as no-one but a harpist-composer could do, and Adlais is proud to publish eleven of his compositions in varied styles and at varied levels. His H-A-R-F-E, premiered in Moscow in 2005, and published in February 2007, was the first of these. Subsequently, Adlais has published ten more, and a complete list, including the brilliantly virtuosic 'Concerto-Waltz, St Petersburg-Vienna', and the very popular harp duet 'Toward the Sun' can be found at www.adlaismusicpublishers.co.uk. 'Loneliness', published in April 2010, was a set work in the 1st Golden Harp Competition held at Saint Petersburg in September 2009, and more of his pieces are beginning to be set on a regular basis in competitive festivals, where they are achieving an ever-wider popularity.
Adlais is proud to have been entrusted with the publication of Indiana, Andres's latest work. It will receive its North American premiere on 16 July 2013, when it will be performed by Jordan Thomas at the Composition Forum of the USA International Harp Competition, Bloomington, Indiana.
A.G. 2013