Diversions (Clymau Cytgerdd) for two harps were written to commission by the Bangor (North Wales) Committee of Cymdeithas Cerdd Dant as a test piece for its annual competitive festival held at Bangor in 1990. They were recorded by Sain in 1992 (SCD 4038), the composer playing both parts.
1. Chasing (Chwarae Mig)
A 'happy-go-lucky', somewhat quirky movement, with the two harps, in quite distant keys, pursuing each other, as if they were playing 'tag' or 'hide-and-seek'. They eventually collide into each other on the last note of the piece.
2. Descanting (Canu Penillion)
The second movement is based on the unique traditional Welsh art of penillion singing, or Cerdd Dant in which the harpist plays a harmonized melody and a singer (datgeiniad) sets verses in counterpoint (or descant) with the harp. Here the second harp plays the melody (Cainc y Gododdin an original composition by Osian Ellis himself, written in the tradition of the cerdd dant melodies used by Welsh harpists from time immemorial), and the first harp plays the descant as a setting without words. The original words set to this tune by Osian Ellis were Dylan Thomas's poem 'And death shall have no dominion'. This movement is often played separately.
3. Gossiping (Hel Straeon)
Osian Ellis dedicates this movement "with affection, to all my colleagues, both young and old". Again playing in different keys, the two harps indulge in light-hearted chatter, banter and gossip, tossing nonchalant conversational phrases back and fore from one to the other, but eventually coming together in agreement and a conclusion on a final F major chord.
Ann Griffiths, July 2011
'Diversions' are recorded on SAIN SCD4038, obtainable from www.creightonscollection.co.uk
Originally published by Ossianic Music (1990). Copyright assigned to Adlais 2011
Osian Ellis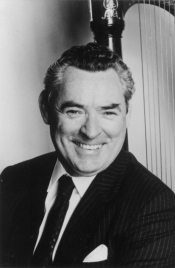 "He is a harpist of God's Grace - a wizard at his harp and a true musician ..." (Gothenburg Post) is a brilliantly apt summation of the talent, art and artistry of the man who is undoubtedly Wales's greatest harpist of the twentieth century.
Born in Ffynnongroyw, Flintshire, North Wales on 8 February 1928, Osian Ellis studied at London's Royal Academy of Music, where, on the retirement of his teacher, Gwendolen Mason, he became a highly influential professor from 1959 until his retirement in 1989. He was principal harpist with the London Symphony Orchestra from 1961, and a member of the Melos Ensemble from its inception.
He also had an important solo career, inspiring concertos both by his compatriots Alun Hoddinott (1957) and William Mathias (1961), and by, amongst others, William Alwyn, Jörgen Jersild and Robin Holloway. In 1977 he was the dedicatee of a Cantilena e Scherzo by Gian Carlo Menotti, but his most significant association has been with the music of Benjamin Britten, whose Suite in C op 83 (1969) has become a classic of the harp. His many awards include a CBE (Commander of the British Empire) awarded in the Royal Honours List of 1971, and an honorary Doctorate (D Mus) and an honorary Fellowship of the University of Wales (1970 and 2000).
Osian Ellis has always been aware of his Welsh heritage, and his delightful arrangements of Welsh folksongs and his settings of medieval Welsh poetry in the strict metres set in the unique traditional Welsh art known as Cerdd Dant have enchanted audiences the world over, both on disc and in the concert hall.