Work:
Single work for solo harp
Catalogue No:
Adlais 085
ISMN:
979-0-57032-122-3
Edition:

2007, A4 stapled

Duration:
2' 50" minutes
Suitable for:
Grade 3 - 4 Triple Harp
Price::
£4.00 Go to shop
HEN FORGAN A'I WRAIG
Y GŴR
Mae arna'i eisiau gwybod, Siân,
A roist ti fwyd i'r moch?
Ac oni roddaist, mae'n llawn bryd,
Mae'n mynd am ddeg o'r gloch.
Y WRAIG
Wel dyna ti yn dechrau'th rinc,
Yn dinc, yn dinc, o hyd;
Mae gwrando ar dy gwrnad gâs,
Ymron â'm gyrru o'r byd.
Y GŴR
Pe ba'et yn mynd o'r byd rhyw awr,
Mi gawn i fawr ymwared
Y WRAIG
Ond nid a'i ddim i'th blesio di
Ychwaith, er maint dy ddwned
Y GŴR
O! pe bai'n digwydd iti fynd
Y WRAIG
Ca'it wedyn weld fy ngholled
Y GŴR
Taw, Siân, taw Siân, O taw, mae'n bryd
Y WRAIG
Taw di, taw di'r Hen Forgan
GYDA'I GILYDD
HITHAU Mi dawa'i i, rwy'n dweud iti
YNTAU Taw, taw, taw, taw, taw
Pan leicia'i fy hunan
Y GŴR
Y mae dy sŵn yn union fel
Cacynen mewn bys coch
A dechrau'r cwbl oedd i'm ddweud
A roist ti fwyd i'r moch?"
Y WRAIG
Y mae dy rygniad diflas di,
A'th rwngc, yn ganmil gwaeth
Yn holi o hyd, o hyd, "Sawl pwys
A wnaeth y corddiad llaeth?"
Y GŴR
Ti wyddost Siân, pan ddaw y rhent,
Mai'r menyn yw ein swcwr
Y WRAIG
Wel, porthwch chwithau'r gwartheg, syr
Fel delo'n well eu cyflwr:
Y GŴR Yr ydwy'i'n gwneuthur hynny,Siân
Y WRAIG
Wel, gwna, a thaw â'th ddwndwr
Y GŴR
Taw, Siân, taw Siân, taw, gwarchod ni!
Mae'n bryd it gau dy hopran
Y WRAIG
Mi dawa'i, rwy'n dweud i ti,
Pan leici'i 'r hen Forgan

OLD MORGAN AND HIS WIFE
HE
Jane, tell me, have you fed the pigs?
Their cry is not so fine:
And if you have not, don't delay,
'Tis nearly half-past-nine
SHE
There, now your noisy din begins,
Ding, ding, and endless ding,
I do believe your grumbling voice,
Me to the grave will bring.
HE
Were you to pop in there today,
Today would end my sorrow.
SHE
But I shall not to please you, Mog,
Today nor yet tomorrow.
HE
Oh! Were you, Jane, to leave this world,
SHE
And you to beg and borrow.
HE
Stop, Jane, don't talk so silly, Jane;
SHE
Not at your bidding, never.
TOGETHER
SHE I'd talk as long as I thought fit
HE Stop, stop, stop, stop, stop, stop,
Taw, taw, taw!
HE
As sounds a bee upon her back
So does this wasp I've got
And all because I asked if she
Had fed the pigs or not
SHE
Your peevish growling, Mog, is worse
Yes, ten times worse and more
Still asking "How this churning gave
Less than the one before?"
HE
You know the butter pays our rent,
And many another matter.
SHE
I know that if the cows are starved
They won't get any fatter!
HE I give the cows enough to eat.
SHE
Well, do, and hold your clatter!
HE
Stop, Jane, stop, confound your noise!
'Twould shame a barrel-organ
SHE
If I were half as noisy as you
I think it would, old Morgan!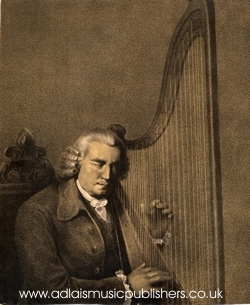 Bewigged and powdered, John Parry was a Master of the High Baroque. Born in about 1710, and almost certainly on the Cefn Amwlch estate at Bryn Cynan on the Lleyn Peninsula, he was blind from birth. His first patrons were the Griffiths family, owners of the estate, and they provided the young blind boy with the harp which was to give him the means of making a livelihood. This was a Welsh triple harp, and John Parry played it in the traditional manner, resting it on his left shoulder, the left hand playing the treble, and the right hand playing the bass.
During the eighteenth-century, the only possible way of making a professional career as a harpist was to find oneself a wealthy patron, and by the late 1730s John Parry had gained the patronage of the family in whose employ he was to remain for the rest of his life. This was the family of Sir Watkin Williams Wynn, whose family seat was Wynnstay, near Ruabon. As a Member of Parliament, Sir Watkin kept a house in London as well, and he would have taken his retinue, which included his harpist, from one house to another with him. Thus John Parry spent a great deal of time in London and mixed in the cultural and artistic circles of his day. His first publication was his 'Antient Welsh Airs by the Bards of Wales' (1742), and such was the pride of his patron Sir Watkin Williams Wynn in the preeminence of his harpist that he subscribed to no fewer than ten copies of the book.
John Parry's concert career does not seem to have been much hampered by his blindness. There are accounts of his concerts in London, Cambridge, Oxford, Leeds and Dublin, and on 27 February and 1 March 1741 he played Handel's Concerto in B flat at Hickford's Great Room in Brewer Street, Soho.
In 1710 the harpist William Powel died. He was the harpist who, fourteen years before, had given the first performance of Handel's Concerto, and who, at the time of his death was harpist to Frederick, Prince of Wales. "Race to London like a greyhound after a hare, and there is no doubt but that you will obtain the prize you so richly deserve", urged his friend Richard Morris. "Refuse not your due honour when it be offered unto you", he continued. But to no avail. There is no record of John Parry's ever having hankered after a Royal Appointment, or being offered one despite his distinction.
In 1757, it was John Parry's playing which inspired the poet Thomas Gray to finish his Ode 'The Bard' and no doubt it is his noble playing which is commemorated in the lines "And with a master's hand and prophet's fire/ Struck the deep sorrows of his lyre". It is for his 'Lessons' or Sonatas for the Harp (Adlais Catalogue no. 39) that John Parry is best remembered today. These were published along with a second collection of 'Welsh, English and Scotch Airs with new Variations' in 1761. He was admitted to the élite circle of the Royal Society of Musicians in 1763, and he knew many distinguished people like Sir Joshua Reynolds, the painter, and Sir David Garrick, the actor – rather to the resentment of some of his Welsh friends who considered him haughty, disdainful and cold. He published another collection of 'Antient Airs' in 1781. This one was called 'British Harmony', and dedicated to Sir Watkin Williams Wynn II, son of his previous patron.
John Parry died on 7 October 1782, and the engraving* reproduced in the 'Gentleman's Magazine' after his death is eloquent enough testimony to the esteem in which he was held, as an influential and greatly respected musical figure.
*reproduced on the cover and inside pages of Adlais's facsimile edition of the Four Lessons/Sonatas.
A portrait painted by his son, William Parry, once hung in Lady Llanover's home (www.ladyllanover.org.uk) and the triple harp which he played in 1755 has been reproduced by Christopher Barlow (www.barlowharps.demon.co. uk) , and is now owned and played by Ann Griffiths.
Two other composer-harpists named John Parry are represented in the Adlais Catalogue, viz. John Parry (Bardd Alaw) (1776-1851), and his son John Orlando Parry (1810-1879).

© Ann Griffiths 2005