OLIVIA BUCKLEY DUSSEK
(1799-1847)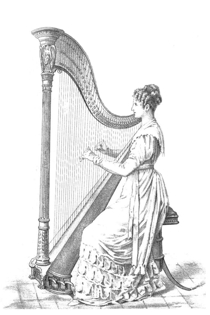 Olivia Buckley Dussek was the daughter of two distinguished musicians. Her father was the famous Bohemian pianist and composer, Jan Ladislav Dussek (1760-1812), whilst her mother was Sophia Corri Dussek (1775-1847), harpist, pianist, composer and singer, and a former pupil of Dussek, whom she had married in 1792, when she was just seventeen years old.
In 1794, her father, Domenico Corri, joined Dussek in an ill-fated publishing venture, but when this ran into debt in 1799, Dussek fled to Hamburg, never to return to England, and leaving his father-in-law facing a debtor's prison. Thus it was that Olivia Francisca, born that same year, most probably never knew her famous father, and was brought up by her mother, who taught her both piano and harp. She made her first public appearance at London's Argyll Rooms as a child virtuoso at the age of eight.
As a young woman, Olivia married William Richard Buckley, and despite becoming the mother of ten children she led an active musical life, teaching, composing music for both harp and piano, and many songs, including, in 1846, two books of 'Fairy Songs and Ballads for the Young'. From 1840 until her death in 1847, she was organist of Kensington Parish Church.
Published as being by O.B. Dussek, much of Olivia Buckley Dussek's harp music appeared in a series initiated by Ashdown and Parry, entitled 'The Harpist's Friend' - a repertoire obviously intended to appeal to the young Victorian ladies who graced their parents' salons playing the fashionable 'Grecian'-style harps made by Erard, Erat or Schwieso and Grosjean.
Three of Olivia Buckley Dussek's arrangements of Welsh Airs have now been re-set and re-published by Adlais. The 'March of the Men of Harlech' joins the popular 'Rising of the Lark' and 'Megan's Daughter' in the 'Victorian Favourites' series. All three can be played on both Celtic (lever) harp and concert harp.
©Ann Griffiths 2006