Louis Spohr
(1784 - 1859)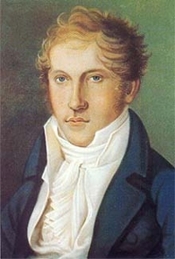 Born and brought up in the North German duchy of Brunswick, and the eldest of six children, Louis Spohr became one of the towering talents of the first half of the nineteenth century, winning a brilliant reputation as virtuoso violinist, teacher, composer and conductor.
Living through a period of extraordinary musical development – indeed, both Mozart's Figaro and Wagner's Tristan were composed during his lifetime – Spohr was considered by his contemporaries to be worthy of a place in the pantheon of the great musicians, alongside Mozart, Haydn and Beethoven. He is also credited with the invention of the violin chin-rest, with being the first to use the baton when conducting an orchestra, with the introduction of rehearsal numbers in orchestral scores, and with his innovative use of a special compositional technique when writing for the single-action pedal harp of his time, which he himself called 'the difference of the keys'.
Much of our information about Spohr is documented in his delightful autobiography, published in a splendid anonymous English translation in 1865. Here he relates how, aged 15, he was appointed a member of the Ducal orchestra in Brunswick, and how, when he was 18, he was sent by the enlightened Duke on a year-long study tour as a pupil of the violinist Franz Anton Eck, which took him as far as St Petersburg. He returned to Brunswick in 1803, and a year later he undertook a concert tour in Germany, receiving ecstatic reviews and overnight fame.
On 5th August 1805, aged only 21, Spohr was appointed Konzertmeister at the court of Gotha, recognised as one of the major centres of the Enlightenment in Germany. An air of authority which belied his years was perhaps partly attributable to his stature of 6'6'', which he himself described as 'my imposing height' and 'my Herculean frame'. The musical establishment at Gotha's Schloss Friedenhof included many eminent musicians, amongst whom were the violinist Regina Schlick (née Strinasacchi, 1769-1839), for whom Mozart had written his Sonata in Bb (K454), and the well-known basset-hornist, composer, harpist and pedagogue, Georg Heinrich Backofen (1768-1839). Backofen's star pupil was the seventeen-year old Dorothea (Dorette) Scheidler, daughter of a court singer. The gifted Dorette not only played harp, piano and violin, but also spoke French and Italian. Quite soon after his arrival at Gotha, Spohr - who in his youth had taken harp lessons in Brunswick with one Herr Hasenbalg - heard Dorette play a difficult fantasia by her teacher, and was very impressed.

Dorette's harp had been given her by the Duchess Amalia. Apparently made in Strasbourg by a maker whose name has not come down to us today, this harp would have had a single-action crochet (hook) mechanism operated by seven pedals. Each pedal could be moved downwards one step, so sharpening each string of the same note-name by a semitone. The pedals were laid out so that the left foot operated those for D, C and Bb, whilst those for Eb, F, G and Ab were operated by the right foot, thus giving a normal 'open' tuning in Eb major. The key of C minor would have been easily accessible, simply by depressing and fixing the Bb pedal in the lower notch, thus giving B§, and it is significant that the first work involving the harp which Spohr wrote soon after his arrival in Gotha in 1805 was a Sonata in C minor for violin and harp. However, ever the diplomat, before completing this duo sonata (obviously intended for himself and Dorette), Spohr had been worldly-wise enough to compose a concert aria for her widowed mother, the court singer Susanna Scheidler.
Inevitably, Louis and Dorette fell in love, and within six months, on the 2nd of February 1806, they were married. At the special request of the Duchess Amalia, they were married in the Palace chapel.
Already, however, fascinated by the possibilities (and limitations) of the harp, Spohr had begun experimenting wiith different tunings. A sonata movement in G major was left unfinished after 76 bars, as were the 28 bars of an unfinished Introduzione also in G. Both works had a violin part written in G major, and a harp part written in Ab. This may appear perplexing until it is explained, but it was obviously an early experiment in the technique which Spohr devised and which he later described as 'the difference of the keys'.
In his autobiography Spohr writes: "Ich kam auf die Idee, die Harfe einen halben Ton tiefer zu stimmen als die Violine. Da nämliche die Geige am brillantesten in den Kreuztonarten klingt, die Harfe aber in den B/Tonarten". The English translation gives this: "I conceived the idea of pitching the harp half a tone lower than the violin. By so doing I gained in two ways. For as the violin sounds most brilliant in the cross or sharp notes, but the harp best in the B-tones or flat notes, when the fewest pedals are moved; I thereby obtained for both instruments the most favourable and effective key-notes; for the violin namely, D and G; for the harp E flat and A flat".

Used in this way, the harp became, in effect, a transposing instrument. The harpist played off a score notated in one key, while the violinist played off a score notated in another. Spohr tuned the harp down a semitone, so that although the pedals were set for one key, the harp actually sounded a semitone lower. A harp part notated in Ab or Eb would sound in G or D, the 'bright' violin keys Spohr preferred, while the violin part would be notated in G or D and sound at that pitch.
The plan was developed further in 1806 with a Sonata Concertante in D major, where the harp was tuned a semitone flat, but with the pedals set for Eb major, and although the harp part was notated in Eb, it sounded a semitone lower in the key of D. For the Sonata in E minor, the violin part was written in E minor; the harp's pedals would be set in position for Ab major, the harp part notated in F minor, and the harp strings tuned a semitone flat so as to sound in E minor. In 1807, the Concertante in E minor/F minor for violin, harp and orchestra (Wo014) would have been written in the same way, the harp once more acting as a transposing instrument. A further technical refinement was needed for the Fantasia in C minor, where, because in the course of the piece he required not only C and C# , but both D and Db, he instructed the harpist to tune in Ab major, thus giving an 'open' pedal setting for this piece of Db C Bb Eb F G Ab.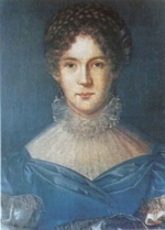 Both the Fantasia in C minor (op 35) and the Variations on Méhul's 'Je suis encore dans mon printemps'(op 36) date from 1807, the year in which Dorette acquired a new harp. This was a harp by Parisian maker Naderman, bought from Backofen. From the point of view of its mechanical functioning, it was far more reliable than her previous instrument, which must have presented many frustrations and problems, including jarring, imprecise accidental alterations and frequent string breakages. Again the harp's pedal layout was exactly as before, but the harp was much more robust, mechanically accurate, capable of a more powerful, brighter sound, and less liable to string breakages.
With the new harp, Spohr planned a first concert tour, solving the harp transport problem by designing a carriage with inbuilt storage space for the harp, the violin in its case, and a luggage trunk in which all their other travelling requisites could be packed. By this time Spohr had written eight works involving the harp, including three Sonatas for violin and harp, two Concertantes for violin, harp and orchestra, a Trio for violin, harp and cello and the two harp solos (op 35 and 36).
Their first tour started in October 1807, and took in Weimar (where both Goethe and Wieland were in the audience), Leipzig, Dresden, Prague, Ratisbon, Munich, Stuttgart, Heidelberg and Frankfurt, before returning to Gotha the following Spring. The programme included both the Fantasia (op 35) and the Sonata Concertante in D major/Eb major written that year, but as they prepared to play the Concertante at court in Munich they realised that there was no harp stool for Dorette. Before one could be procured, King Maximilian rushed to the rescue, insisting that Dorette should use his own gilded armchair, surmounted by the Royal crown. The following day they received Royal gifts of a diamond ring for Louis and a diamond tiara for Dorette.
1808 saw the composition of a new set of variations in Eb (Wo0 29, now lost) and a Sonata Concertante for harp and violin (op 115), and these may have been included in their next tour, scheduled to start in October 1809.
Their following tour began in the autumn of 1812, and in December of that year they arrived in Vienna. Their repertoire included a new Concertante (op 114) written during the winter of 1810-11. Spohr was offered a three-year contract as leader of the orchestra at the Theater an der Wien. An Introduction and Rondo for harp and violin composed in Vienna is unfortunately lost, but there was also another Potpourri on themes of Vogler and Danzi (op 118).
In 1815 the Spohrs continued their gruelling concert schedule throughout Germany, Dorette playing less and less of the harp, and when they went on tour to Italy in 1816, they left the harp behind in Switzerland. After their return and a brief visit to Holland, Spohr accepted the position of Kapellmeister in Frankfurt, and it was there in 1819 that he wrote his final composition featuring the harp, a sonata in G/Ab, now untraceable.
Resigning from his post in Frankfurt in 1819, Spohr accepted an invitation from London's Philharmonic Society to give a series of concerts in the 1820 season. He was very anxious that whilst they were in London his wife should have the opportunity of playing the double-action 'Grecian' harp developed by Sebastian Erard and which he had patented in London ten years previously. In a letter to his uncle dated 1st March 1820, Pierre Erard, then head of the London establishment would write of Spohr and 'his wife, who they say is a very fine harpist. She knows your Parisian single-action harps, but has never played a double-action instrument. I have just sent her one so that she gets used to it'.
Anxious not to over-task his wife and to allow her to become used to this unaccustomed instrument, Spohr decided that she should play in public only once, and that should be in his benefit concert.
This took place on Thursday, June 18th, at the New Argyll Rooms, on what was to turn out to be a most inauspicious day, as it coincided with rioting in the street outside. Dorette took part in only one item, a Grand Duetto for harp and violin. It was the only time she would perform on the double-action harp, and the last time she was to play in public. Spohr decided that it was time she abandoned her 'nerve-destroying instrument', and he wrote 'in order to remove the harp wholly from her sight, I sent it to Erard. When I informed him that my wife was compelled to abandon the harp entirely on account of the weak state of her health, he took it back very willingly, and refused a compensation for the use of it up to that time. In a most gallant manner he said the instrument had now acquired a real value, from having been played upon by so celebrated an artiste, and that too at her last performance.'
In fact, Dorette did play once more, when, on the return journey to Germany, she played in Aachen, having picked up the single-action harp she had left behind in Lille before her journey to London. Thereafter it was as a pianist that she appeared in all her concerts with her husband. She died in 1834. Heartbroken - apart from an aria written in 1825, and another composed in 1835, after her death - Spohr composed no more harp music.
Until recent years, apart from op 35 and op 36, Spohr's compositions for the harp were little known. The legacy brought to light since the establishment of the Spohr Gesellschaft in Kassel, the English Spohr Society, the American Spohr Society and the wonderful Göthel thematic catalogue (1981) has revealed an important body of harp music, whether solo, chamber or concertante works with orchestra, now being extensively recorded and published.

© Ann Griffiths 2010
Images of the Stork harp reproduced with the kind permission of the Victor Salvi Foundation