Gareth Glyn
(b. 1951)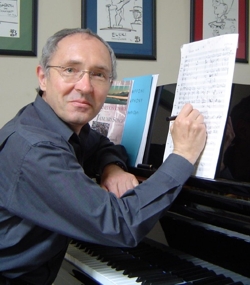 Gareth Glyn was born in Machynlleth, mid-Wales, in 1951; he is a music graduate of Merton College Oxford and a Composer Licentiate of the Royal Academy of Music.
His output over 30 years is enormous, and encompasses all kinds of music, from a huge Symphony to simple songs for children, from classical to pop, from the concert hall to the television screen.
Among the numerous celebrities who have premièred his works are the world-renowned baritone Bryn Terfel, the international superstar Charlotte Church, the BBC Concert Orchestra, the Ulster Orchestra, the BBC National Orchestra of Wales, the organist Jane Watts and many others - including Jonathan Pryce, the villain in the James Bond film Tomorrow Never Dies, who performed a work for narrator and orchestra before a live audience of thousands and a worldwide television viewership. Even Rhys Ifans, now a Hollywood icon, starred in the premières of two Gareth Glyn musicals!
In the world of television, Gareth Glyn was chosen to compose the music for the flagship BBC news programme Wales Today, which was played by a full symphony orchestra conducted by Tadaaki Otaaka, and a great deal of his work for film and television productions has been recorded at the prestigious Abbey Road studios in London with world-class performers.
Much of Gareth Glyn's recent work for the media has been performed, recorded and produced by the composer himself in his own studio; recent technological advances have meant that the sound of the orchestra - indeed of any combination of instruments - can be vividly recreated.
Gareth Glyn lives in Bodffordd, Anglesey, with his wife Eleri Cwyfan and his two sons Peredur and Seiriol.
Click here to go to Gareth's web site